Pete gets finger stuck in Kate's ring
Pete Doherty had to dash to hospital with Kate Moss after he got his
finger stuck in her ring
!
Apparently Kate giggled as nurses used "lubricant" and "clippers" on her ring to remove Pete's finger.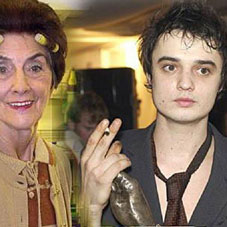 Pete "Big Fingers"
F**k me bandy! There is no way I would be lauging if someone had their finger wedged in my ring and it had to be removed with a sharp implement. She must have been on drugs or something.
This just shows to what depths Kate has sunk (again) and that rehabilitation does not work (again)!